HOW WE QUIZZED FANS AT EVERY LEVEL OF THE CORPORATE LADDER
Everyone dreams of an ergonomic high chair in the corner office. But first, you have to earn it. We worked with DreamWorks to develop a Boss Baby quiz for desktop, mobile, and Snapchat that let fans of all ages test their business acumen - and helped Boss Baby snag the #1 spot at the box office. We'll take that raise now.
The Boss Baby might have his business game on lock, but when bringing the tiny mogul to the masses, DreamWorks faced a few challenges that couldn't be fixed with a good pacifier:
1) Introduce completely new characters to the world, and get audiences excited for a brand new story
2) Impress future bosses (kids), while still entertaining their adult assistants (parents)
3) Compete against big budget revamps of universally beloved stories (like Beauty and the Beast) in the theatrical window
Not everyone is management material. Adapting themes and humor from the film for both adults and children, our quiz separated the head honchos from pencil pushers with wacky, ridiculous, and totally "HR-safe" questions about how to succeed in the Boss Baby world.
After all, who couldn't use a little professional development advice from an expert? Even if he IS still in diapers.
Client
DreamWorks Animation
Project
Bossy Baby Digital Quiz: Are You A Boss?
What We Did
Interactive Online + Mobile Game
Snapchat Game
Wedbsite Development
Copywriting
IT DEPARTMENT
We created an online and mobile game to put potential Boss Babies to the test - designing and building the i-frames, graphics, and functionality of the game from scratch. And yes, Alec Baldwin's voice berated users every (glorious) step of the way.
PENCIL PUSHERS
Copy for the quiz was carefully developed by our team, with questions crafted to distinguish the true bosses from the lowly worker babies.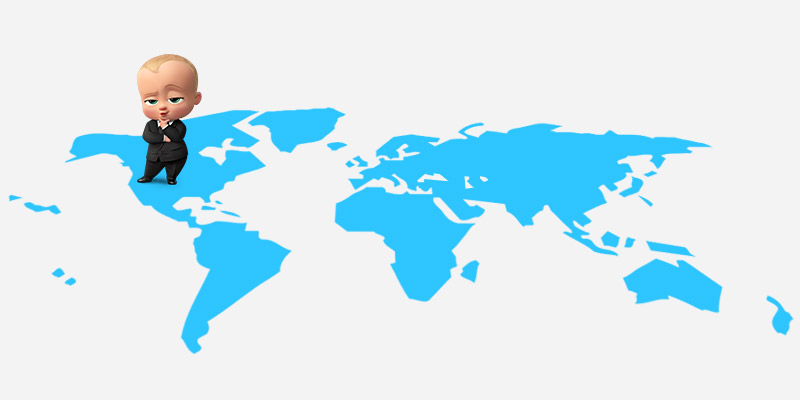 OVERSEAS OFFICES
Like any good business, our vision extended beyond our own borders. In the end, our quiz was distributed internationally across 16 territories.
BOSS BONUS
After initially releasing on mobile and desktop, the experience was re-deployed on Snapchat for a little "overtime" work. That's the kind of promotion Boss Babies love earning.
THE EARNINGS REPORT
Boss Baby opened #1 in its debut weekend, proving the project's other ROI: the Reign Of Infants.
Results
$50+ MILLION

Opening Weekend

#1 AT BOX OFFICE

for 2 weeks after Boss Baby unseated juggernaut Beauty and the Beast

32 THOUSAND

Game Sessions Started

76%

Average Play through (Highest of any Boss Baby game)