A SOCIAL MEDIA CAMPAIGN THAT TURNED LOW-RENT CRIMINALS INTO MILLIONAIRES (IN FACEBOOK LIKES)
They may have pulled off the biggest heist in history, but Masterminds' crazy characters were no pros. Lucky for them, we are. When it came time to get fans to bring the movie home, our six-week social campaign raked in millions of impressions (and suprisingly little jail time).
People will do nutty things in the name of love. Hell, David Ghantt stole millions of dollars and escaped a hit man in Mexico just to impress his lady crush. So to get audiences to bring home Masterminds, we knew we had to make them fall in love. How?
1) Recapture fans who saw the movie during its theatrical run and remind them how laugh-out-loud funny it could be
2) Introduce new audiences to the incredible talent and irresistibly weird plot twists of this almost-true story, and convince them to give it a try
Like all good masterminds, we came in with a plan. Unlike Ghantt and his crew, ours was…legal. Leveraging the funniest moments of the film through videos, GIFs, images, and a comprehsnive "Guide to Masterminding," we showed fans why the heist belonged at home.
Client
Fox Home Entertainment
Project
Masterminds Home Entertainment Social Media Marketing Campaign
What We Did
Social Strategy
Social Graphics
Gif Content
Video Content
Social Page Management
Copywriting
SOCIAL STRATEGY MASTERMINDING
For six weeks, our all-emcompassing social strategy reached fans across Facebook, Instagram, Twitter, and Tumblr with original content that made missing out on the heist feel downright impossible.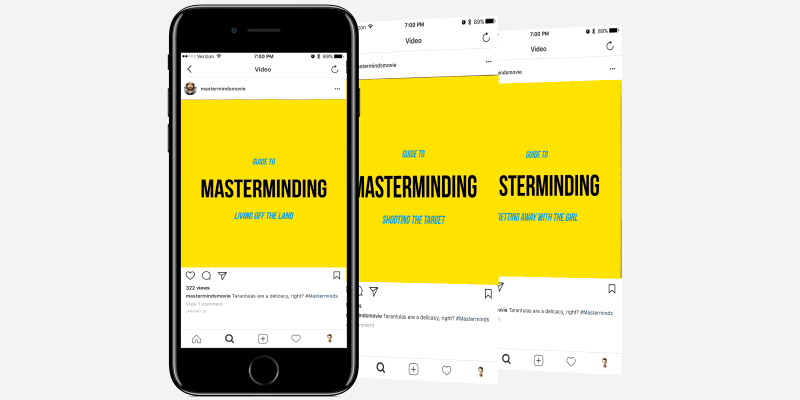 ORIGINAL GIFS AND VIDEOS
Nobody ever said stealing $17 million was easy... But at least our Guide to Masterminding videos gave fans a little "expert" guidance from the characters. So what if they all ended up in jail?
FANS WERE FAM
When audiences responded to our posts across social, we helped them feel like part of the Masterminds family with personal, funny, and semi-inappropriate responses.
'90s OUTFITS, CURRENT EVENTS
We jumped on trending hashtag chatter and funny holidays with meme content that brought the '90s plot into today's world.
A HEIST HEARD (AND SEEN) 'ROUND THE WORLD.
With more than 30 million overall impressions, our social campaign made fans laugh, cringe (in a good way), and most importantly – brought home the heist on Blu-ray and DHD.
Results
31+ MILLION

Impressions

27+ THOUSAND

Engagements

56+ THOUSAND

New Followers Across All Channels