THE BOOK THAT SERVED AS BOOT CAMP FOR SOLDIERS IN 2055.
With the "Welcome to Atlas: Advanced Soldier Manual," Armed Mind, Activision Blizzard, and Sledgehammer Games published a hardbound book that didn't just introduce fans to the art of the game, but immersed them in the lore of an evolved, corporate-run battlefield.
Armed Mind rebuilt the collectible limited edition's hardbound book into more than a mere art book. We were driven by three main objectives:
1) Put story first, and build equity in Atlas Corporation and its CEO, played by Kevin Spacey
2) Immerse players into the new futuristic technologies and vehicles of Advanced Warfare
3) Extend the physical book into the digital realm to improve the game disc installation experience with interactive content
The result was an epic, in-game employee handbook for freshly recruited soldiers. By embedding our narrative in the universe of the game and retaining the futurism of the plot, we created an ultra-unique collectible for core fans.
Client
Activision Blizzard
Project
Call of Duty: Advanced Warfare Limited Edition Hardbound Book
What We Did
Hard-Bound Book
Page Design
Page Template
Art
Copywriting
Digital Content
Transmedia
QRE Codes
THE ARTIFICE
Though printed on paper here in 2014, the Atlas Soldier's Manual is essentially an "employee's handbook" for a technologically-advanced company in 2055. Looking to eschew how intel is displayed in-game, Armed Mind set out to create a "printed" book that felt like a physical reproduction of a virtual experience. It envisioned the book of 2055, which might not be a book at all.
THE STRUCTURE
No table of contents. No page numbers. Instead, the Soldier's Manual was developed as a fluid docu-experience built out to be as sleek and sterile as the briefings and information shared in-game, incorporating infographics, minimalistic metadata, and a surface "background" that straddles the line between semi-transparent HUD and augmented reality.
THE CONTENT
Every aspect of the Atlas Soldier's Manual emphasizes corporate authenticity. This begins at the front of the book with "new user" authentication and de-encryption, as well as a letter from the company president. A Code of Conduct, company timeline, global map of facilities, and fictional copyright notice complete the effect.
THE DESIGN
Given the book extends Atlas Corporation into the physical world, the Soldier's Manual needed to seamlessly match in-game visuals. Careful attention was paid to information architecture, data containers, primary and secondary colors, saturation, and negative space to honor the in-game entity.
THE ARTWORK
A primary priority for the book was to share the wealth of incredible art Sledgehammer Games created as they envisioned Call of Duty: Advanced Warfare, including concept artwork, final weapon and vehicle renders, Exoskeleton features, directed-energy weaponry, and much more. Using a "training manual" as its conceit, the book is able to explore each aspect with images, copy, statistics, backstory, and metadata.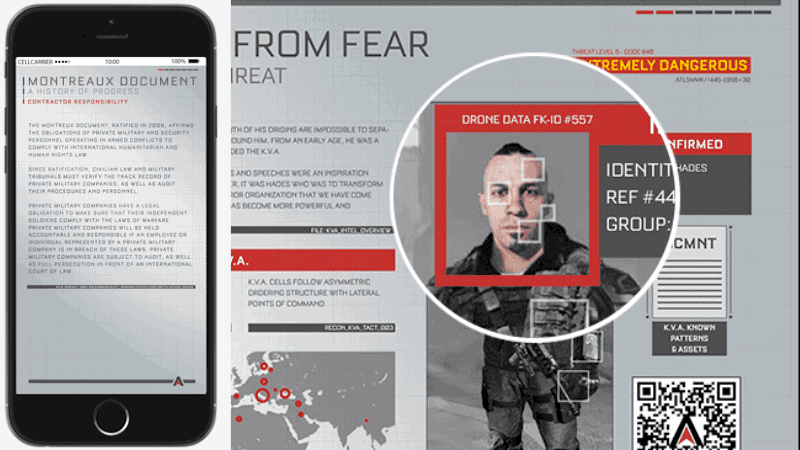 THE METADATA
A combination of status queries and confirmations, captions, entry fields, headers, footers, progress bars, page annotations, and file format types helps complete the transformation from bound-book to the printed manifestation of a digital one.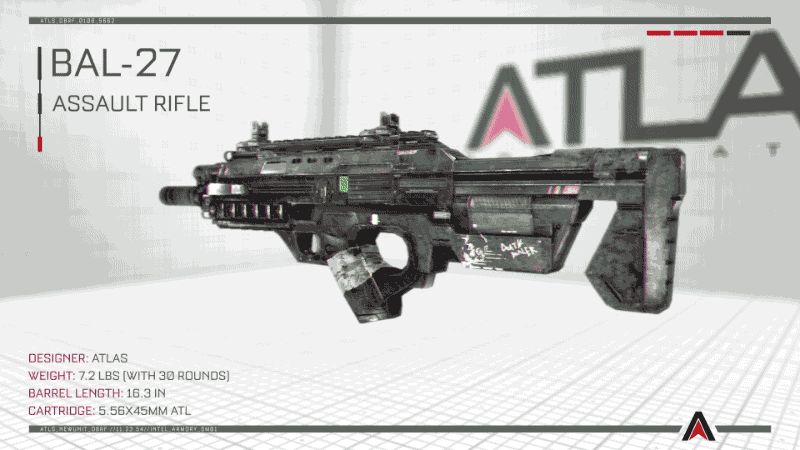 QRE CODES
Acting as a segue between the ink book and virtual game, a set of 15 unique QRE codes transport users into the real "virtual" version of the Soldier Manual. Codes led to 3D-turnarounds of the game's most powerful weapons and equipment.
BROAD DIGITAL CONTENT
In addition to the 3D weapons, transmedia and infographics, content includes authorization screens, timelapse edits of government documents, vehicle schematics, and even an Atlas "Soldier's Creed."
LOADING SCREEN WORKAROUND
No player wants to watch a progress bar after purchasing a game. As a workaround for that buzzkill, the QRE codes in the Limited Edition's Soldier Manual helped distract fans while the game prepped for deployment.
HOW-TO INTEL
As a Soldier's Manual, the book's primary purpose is to help new recruits orient themselves to the battlefield. How-To infographics on variable grenades and other weaponry help illustrate how to use a powerful new arsenal.
A SOLD-OUT SUCCESS WITH MILLIONS IN REACH
As a collectible, the Atlas Soldier Manual extended an in-game corporation into the real world; as an initiative, it earned millions in global press impressions and sold out worldwide.